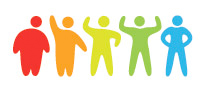 Lifestyle changes involving diet, exercise, adequate sleep, and stress management are the most important factors to losing weight and achieving a healthy body weight. Meeting regularly with a Registered Dietitian as you move through the stages of losing unwanted pounds offers professional support and personalized attention to help guide you to your goal. We encourage clients to identify goals that go beyond numbers on a scale, and instead focus on things you can directly change, like your behaviours, choices, and habits. The result: body-fat loss, maintenance of lean muscle mass, improved fitness, increased self-esteem, reduced risk of disease, and better overall health.
There are many differences between managing your weight and lifestyle with a Registered Dietitian versus utilizing a commercial weight loss business:
A Registered Dietitian is an accredited health professional with extensive training in nutrition therapy to manage a variety of medical and health conditions. See the difference between the title Registered Dietitian versus Nutritionist.
We take a personalized approach to weight loss. We do not provide generic, one-size-fits-all diet plans that restrict whole food groups or exclude your favourite foods.
We believe that good nutrition is based on eating real food, not diet products.
We incorporate healthy eating habits into your daily routine. We help you find ways to include nutritious foods into your life, instead of making your life revolve around a diet.
We do not sell supplements. There is no magic pill that will solve all of your weight loss problems.
We use a coaching model where the client and nutrition professional work together to create a mutually agreed upon plan to work towards sustainable weight loss. By creating your own goals within a healthy framework and with the support of a Registered Dietitian, long-term success is achievable!
If you are ready to make diet and lifestyle changes to reach your health goals and look and feel your best, allow our team help you get started with your weight loss plan.