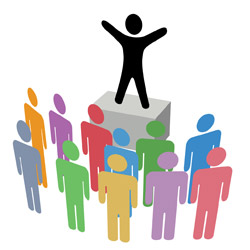 Jennifer is an informative, engaging, and inspiring speaker, and clients find it easy to relate to her out-going and upbeat personality.  She has an innate ability to take complex nutrition information and present it in a way that people can translate into positive action in their personal lives. Jennifer enjoys public speaking for both large and small corporations, as well as in front of sports teams, athletic circles, classrooms, and other community groups.  Jennifer's presentations typically include handouts on her topic, recipe ideas, and often a healthy snack!
Topics include:
Healthy Eating 101: Top 10 Nutrition Tips
This presentation covers the top 10 nutrition habits we all should be incorporating into our lives for good overall health and achievement of a healthy body weight. These tips include simple strategies to make healthy eating attainable in a busy and stressful world. See how your current eating pattern measures up, and gain some insight on some simple strategies you can start doing today to eat better and look and feel your very best.
Making the Most of Mealtime
This presentation provides quick tips to help busy families plan nutritious and delicious family-friendly meals. Learn time-saving tips to get healthy meals on the table quickly, as well as strategies to make family dinners a regular and enjoyable activity. A week-long healthy meal planning exercise is included with this presentation.
Armchair Grocery Store Tour
Sit back and relax while we bring the grocery store to you. You will learn how to navigate the grocery store aisles effectively to get the most value for your money when shopping for healthy foods from each of the four food groups. Learn what to look for and how to select fruits and vegetables at their nutritional prime, tips on food safety and storage, and how to read nutrition facts labels to easily compare products and make the best choice for you and your family.
Eating for Energy: Healthy Meals & Balanced Snacking
This presentation is geared towards those trying to improve the nutritional quality of their diets as a strategy to optimize energy levels, improve concentration, and for athletes and active individuals, maximize athletic performance. Learn how to effectively combine carbohydrates, protein, and fat to feel satisfied between meals without eating too little or too much, how to snack smartly to keep blood sugar levels in line, and how to fuel effectively throughout the day to manage late-afternoon and evening food cravings.
Ditch the Diet: The Skinny on Losing Weight and Keeping it Off
Learn the secrets to sustainable weight loss. Find out which small steps you can take to change your diet, exercise, sleep, and stress management habits that will pay off to help you lose weight and achieve a healthy body weight. This seminar will help the audience identify goals that go beyond numbers on a scale, and instead will focus on things people can directly change in their lives, like their grocery shopping habits, food choices, meal preparation skills, and daily routines.
Eat, Drink, and be Mindful! Becoming Aware of Mindless Eating Habits
Whether consciously aware or not, we live in a society where environmental cues can play a powerful role in our eating behaviours. Research has demonstrated that large packages, plates, serving bowls, and even pantry and refrigerator arrangements can all increase how much a person serves themselves and consumes by 15-45%. Mindful eating, however, is about balancing your diet, gaining awareness of your mindless-eating habits, and learning to listen to your body's needs. Mindful eating is also helpful for people who have deeper struggles with food – those who undereat, overeat, binge, or have a chaotic relationship with food. This presentation will highlight the benefits of eating mindfully and suggests key principles to help you make small, but meaningful changes in your eating patterns and environment to set yourself up for nutritional success.