Online Nutrition Coaching
12 months of personal nutrition coaching done from anywhere in the world to help you transform into your leanest, fittest, and best version of YOU.
Transform your body + mindset.
Our 12-month online nutrition program is built around sustainable healthy eating habits that help you:
Lose weight
Shed body fat + inches
Build strength and lean muscle
Have more energy
Overcome stress + emotional eating
Develop a positive and resilient mindset
Ditch dieting, once and for all.
At NutritionRx, we take a non-dieting approach to healthy eating and weight loss, and instead promote:
Whole (real) foods
Self-care
Enjoyable exercise
Happy & healthy body + mind
Finding a balance for what works for YOUR life (imperfections and all)
Say goodbye to yoyo dieting, restriction, setbacks, frustration, shame, and complex food rules to follow. Instead, we'll help walk you through a step-by-step habits-based nutrition curriculum that leads to massive results, allowing you to just focus on the next step in front of you.
Failed diets and regaining back the weight you've lost will be a thing of the past, and over 12 months of online nutrition coaching, you'll develop the skills to maintain a healthy and fit lifestyle to last a lifetime.
Join the FREE pre-sale list to gain early access and a discount code at registration.
Email info@nutritionrx.ca with the subject heading Pre-Sale List – at no cost or obligation to you – to gain access to a special discount code and your own private link to register a full 24-hours before everyone else.
Our next program launches in September 2017 and enrolment works on a first-come, first-served basis for the limited number of spots available.
Small actions. Massive results.
Small
Simple
Strategic
Step-by-step
Our nutrition coaching program is based on small and simple daily practices that lead to big results. Each day, you'll be given a strategic daily habit to work on (between 5-10 minutes) that builds upon the previous lessons and can be done in the context of a hectic life with competing priorities, such as taking care of family, travelling, or being extra busy with school or work commitments.
The online program follows a carefully designed nutrition curriculum sequence to achieve a total body transformation as the year of nutrition coaching unfolds. It can be completed from anywhere in the world with a phone, tablet, or computer to log into your lessons, see your daily habit, and check-in with your coach.
Coaching + customization.
With the help of your coach, we morph the program to fit you – your life, your needs, and your limitations to help you achieve your goals. We'll help you develop a personalized plan to support you in eating better, moving better, and living better.
There's no one-size-fits-all "nutrition approach" you're forced to follow, and with the help of your coach, the program can be modified for different:
Activity levels
Skill levels
Time constraints
Food preferences and intolerances
Eating practices: e.g. vegan, vegetarian, gluten-free
Exciting life events: e.g. becoming pregnant, preparing for an athletic competition
*Disordered eating recovery work: Coach Jennifer has extensive experience as a Registered Dietitian coaching people of all shapes, sizes, and ages who are recovering from serious eating disorders, disordered eating practices, and an unhealthy relationship with food, exercise, and body image [*extra 1-on-1 counselling and support may be required if actively battling an ED while on this program]
Although the program is primarily designed to help people lose weight and improve their overall body composition, it can also be completed by people who are already at a healthy body weight, but just want to eat even better, improve their eating habits to support physical activity, try new things, and feel like they have a positive source of inspiration and support in their corner. Even coach Jennifer has gone through the program herself and loved it!
Backed by research. Proven with real people.
The nutrition curriculum used in our online coaching program originates from a world-class nutrition coaching, certification, and research organization called Precision Nutrition (for which we are Certified Level 1 PN Coaches).
Over the past 10 years, their team of Registered Dietitians, Nutritionists, and Researchers have tested and tweaked the coaching methods used in this nutrition program in nearly 50,000 clients to-date, and the amazing results people achieve year-after-year speak for themselves. Additionally, several peer-reviewed research papers have been published on this habits-based nutrition coaching program, documenting its safety, effectiveness, and sustainability and scientifically verifying that it actually works (no empty promises here)!
See for yourself that lasting body transformations are possible when you follow a proven, research-backed online nutrition coaching program that works in people of all shapes, sizes, and starting points paired with a supportive coach to help guide you step-by-step towards your goals.
Women's Program: How It Works
Men's Program: How It Works
How it works.
Short daily nutrition lessons
Habit-based behaviour changes
Support, mentorship, and feedback from your coach
Daily Lessons & Habits: Each day, through the online coaching platform, you'll receive a short daily nutrition lesson to read or listen to (approx. 5-10 minutes), as well as a single nutrition habit to focus on and practice for that day.
For example: Notice and Name Lesson Card
A lesson about the importance of self-observation and self-awareness.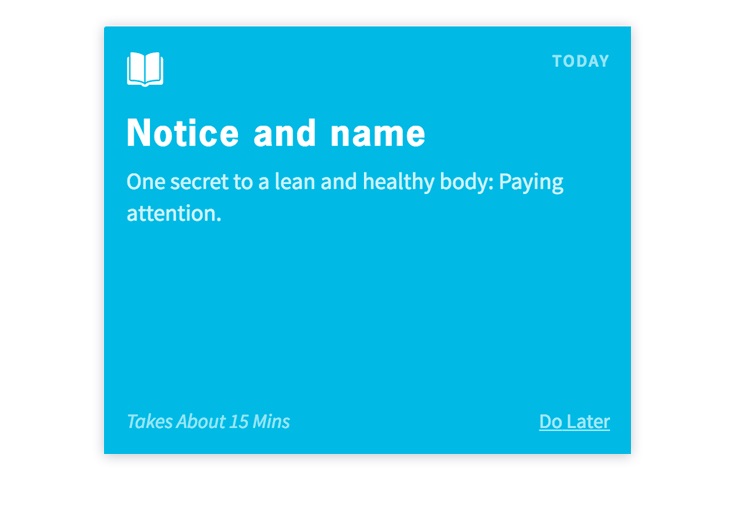 For example: Habit Cards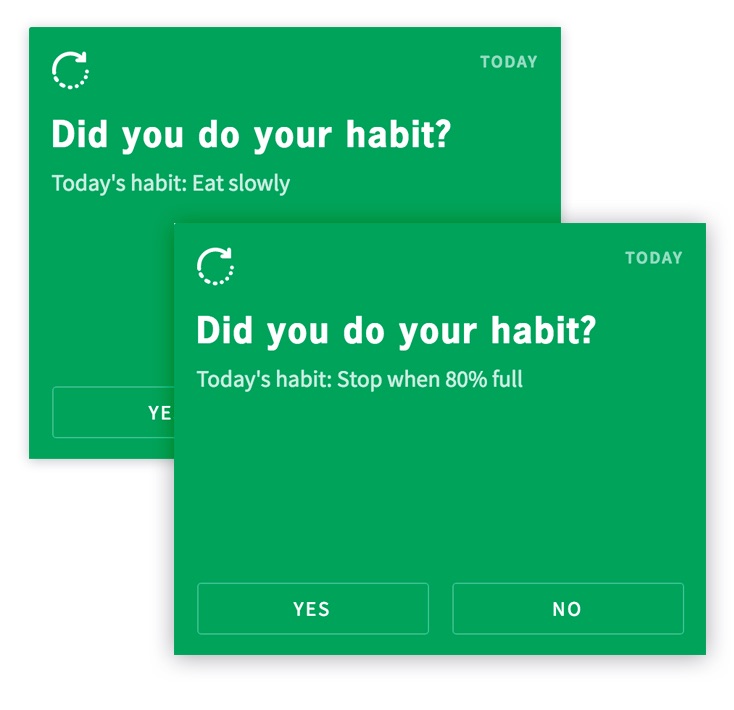 When you check into the online platform, you'll check either YES or NO to indicate if you completed the daily habit, with a focus on mastering 1 new positive nutrition habit every 2 weeks.
Step-by-step, day-by-day, the nutrition curriculum places the habits in the right order and breaks complex skills down into simple take-action steps, so that those small daily efforts snowball into massive results over time.
No matter how much you might already know about healthy eating, or how much you want to change your situation, only consistent, daily action creates change. This program is all about doing + practicing healthy habits – through hands-on, real-life experimentation and experience.
Because when it comes to change:
Action is more important than information.
Doing is more important than knowing.
Busy lives, sustainable habits.
Although the program is designed to complete 1 short lesson + 1 small habit each day, we recognize that sometimes life will be extra busy and you may get slightly behind schedule. That's perfectly ok, and the program is designed to accommodate real life hiccups and interruptions, and not overwhelm you with too much to focus on all at once.
To make things as easy as possible, you have the choice to read or listen to your lesson as an audio file on-the-go. If you miss a few days, at any point throughout the program you can log into the Archives folder to access all of the program material and check-off your lessons and nutrition habits at a later date and time.
There's no need to worry about getting left behind if life gets a little stressful over the next year, and your coach is always there to check-in on you and help you stay committed to your goals.
There's no "perfect time" to improve healthy eating habits,
so why not start now?
Results guaranteed.
You bring the commitment. We'll bring the year-long coaching and support. Work hard. Stay engaged. Play. Experiment. Have fun. Trust the process. Be your best self.
Our promise is to help you:
Gain energy
Develop a leaner and fitter body
Have a better relationship with food and healthy eating
Achieve a happier and healthier life + mindset
Over our 12 month online nutrition program we'll help you lose weight that's been difficult to shed (or maybe we should emphasize that we'll help you improve your body composition and lose inches vs. obsessing over the scale). You'll build physical strength and confidence. Your eating will transform into something that makes you beam with pride and self-assurance. You'll get results that last in the long-run (no quick-fix diets here).
And if you put in the work, stick out the year, and don't get the results you're looking for, we'll give you a full refund, because it's the right thing to do when we stand behind our coaching and say that we're truly here to support you in reaching your goals.
Zero risk. Just our unwavering support and commitment to help you succeed.
Affordable prices.
Our passion is to help as many people as possible:
Eat well
Move well
Live well
Feel comfortable + confident in a happy and healthy body
With 1-on-1 in-person nutrition coaching being an expensive and often out-of-reach option, we wanted to add another way to deliver life-changing nutrition coaching for everyone. Our online, year-long nutrition coaching program is our most affordable way to help you get the body you deserve.
Payment Options
Monthly Payments
$125 every month x 12 payments
Quarterly Instalments
$300 every 3 months x 4 payments
Year Upfront
$999 x 1 payment
Add On: 1-on-1 In-Person or Private Video Coaching Calls (Optional)
$100 per 45-minute session
OR
$320 per 4-pack of 4 x 45-minute sessions

Meet your coach.
Jennifer Broxterman, MSc, RD, PN L1
Over the next year, you'll have the opportunity to work with award-winning nutrition coach Jennifer Broxterman, Registered Dietitian & Sports Nutritionist. She's the founder and Head Nutrition Coach at NutritionRx, a Canadian-based nutrition counselling company in London, Ontario.
Jennifer is also a university professor who teaches nutrition and exercise courses at Western University / Brescia University College. As a Foods & Nutrition Prof, she's won the Award for Excellence in Teaching for her outstanding teaching skills, warm and caring communication style, and out-of-the-box learning experiences she creates for her students.
Her educational background includes:
University undergraduate degree in Life Sciences (B.Sc.)
Second undergraduate degree in Foods & Nutrition (B.Sc.H.)
Masters Degree in Foods & Nutrition (M.Sc.)
Registered Dietitian title through an accreted Canadian dietetic internship (RD)
PN Level 1 Coaching Certification through Precision Nutrition (PN L1)
Extensive continuing education in Motivational Interviewing, sports nutrition, and the management and treatment of eating disorders
Jennifer brings a wealth of nutrition counselling experience to the coaching program, having worked 1-on-1 with a wide range of nutrition clients at her private practice NutritionRx, and has helped thousands of people to lose weight, feel healthier, and improve their relationship with food, exercise, and body image.
Jennifer also believes in walking the talk and living a healthy lifestyle like she encourages her clients to do. She's a former varsity ice hockey player, varsity rower, and Canadian-level CrossFit competitor, and today maintains a fit and active lifestyle through CrossFit, weightlifting, hiking, yoga, biking, going on long walks with her dog, and eating healthy wholesome foods with a committed (yet relaxed) approach + mindset towards her personal nutrition.
Don't miss out on the next coaching program, opening September 2017. Join the pre-sale list today – absolutely free!
Our online nutrition coaching program is capped at a limited number of clients per cycle to ensure each person gets the personalized attention and support they deserve from their coach.
Enrolment works on a first-come, first-served basis and has historically sold out within a couple of days after opening.
This is your opportunity to get in the best shape of your life, improve your eating habits, transform your body, and do something incredible for your long-term health and well-being.
Take one small step today and join the FREE pre-sale list to ensure you get early access to our next program launch.
As we approach the start of the next program (September 2017), we'll send you more information about how to register at that time. If you do join our pre-sale list, we'll also send you a special discount code, with your own private link to register a full 24-hours before everyone else.
Join the FREE pre-sale list today.
Email info@nutritionrx.ca with the subject heading Pre-Sale List – at no cost or obligation to you to reserve early access to enrol and a discount code to save money off the cost of the program.
We hope to have the opportunity to help you transform your body and life forever.
The next step is up to you.