Posted on November 24th, 2017 by admin
#GIVE: $10 towards FREE GROCERIES at Loblaws or Superstore using their Click & Collect Program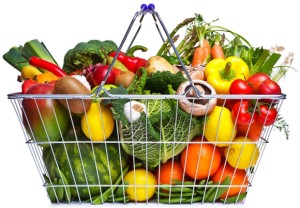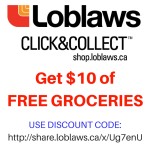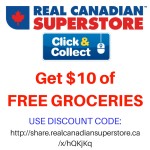 ***
One of my favourite time-savers for healthy eating is the Loblaws and Superstore Click & Collect Program. I've been using it for more than a year now, and I'm totally hooked!
HOW IT WORKS:
✅ I shop online for our groceries using the Loblaws or Superstore website (or app on my phone), and it takes < 5 minutes/week.
✅ Click & Collect even creates a "custom grocery store" and shows you your favourite items purchased most often to save you time.
✅ I also have some "homemade recipes" I've saved in my Click & Collect account, so when I make a specific dish, I just have to click my recipe list, and everything is automatically added to my grocery cart.
✅ I select my pick-up time online.
✅ I drive up to the pre-reserved Click & Collect parking spots, call the store, and they come out immediately with my groceries and load them into my trunk.
✅ I drive away smiling now that getting groceries is no longer a stressful or time-consuming chore each week.
COST for Click & Collect:
$3 (most time slots)
$5 (5-7pm weekdays or weekend pick-up)
Some of my other favourite benefits:
😊 no impulse buys
😊 no crowds
😊 no check-out lines
😊 no searching for a parking spot
😊 kids can stay in the car
😊 Loblaws & Superstore share your account info, so you can easily switch between grocery stores and pick-up locations in the city
😊 getting back 1 hour of my life each week (for the cost of $3)!!
$10 Free Groceries Discount Code (Loblaws): http://share.loblaws.ca/x/Ug7enU
$10 Free Groceries Discount Code (Superstore): http://share.realcanadiansuperstore.ca/x/hQKjKq
I hope you enjoy it as much as I do!!!
Jen