For the fastest response, email info@nutritionrx.ca to schedule your first appointment with Jennifer Broxterman, Registered Dietitian & Sports Nutritionist or Samantha Penlington, Nutritionist & Registered Nurse in London, Ontario, Canada. All of our Nutrition Counselling Packages we offer begin with a 60-minute initial nutrition assessment and counselling session included in the package price.
Please note that we only work with adult clients aged 18 and older.
Schedule: Hours are varied to offer morning, lunch hour, afternoon, evening, and weekend nutrition sessions. The following time slots are available each week for a 45 or 60 minute appointment. When sending an email to book an appointment, please state the day of the week and time slot(s) you would prefer.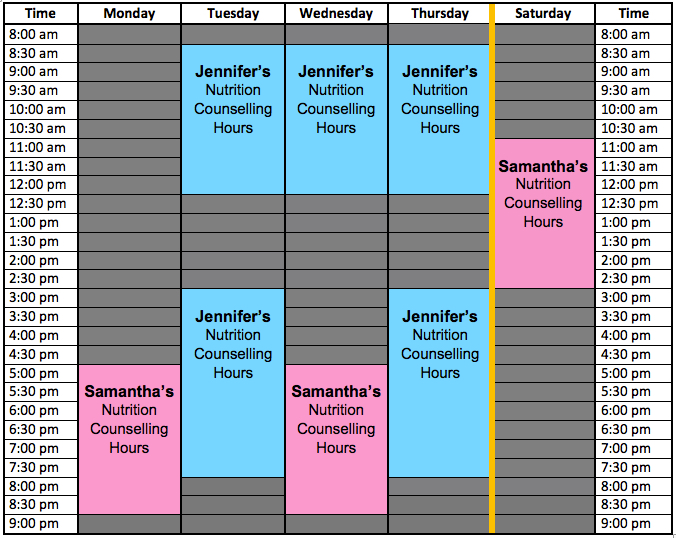 CANCELLATION POLICY
Forty-eight (48) hours notice must be given to cancel/reschedule your appointment, as that appointment time is reserved for you.  Providing at least 48 hours notice allows our office to seek a replacement, and offer you and other clients uninterrupted service.  If 48 hours notice is not provided, or if you do not show up to your reserved appointment, a fee of $40.00 will be charged to you.  Thank you for your cooperation and understanding.