For the fastest response, email info@nutritionrx.ca to schedule your first nutrition counselling appointment in London, Ontario, Canada with Jennifer Broxterman, Registered Dietitian & Sports Nutritionist. 🇨🇦
You're also welcome to give us a call at 519-520-9549, although we're not always able to pick up our phone if we are working 1-on-1 with our nutrition clients (but we'll call you back right away if you leave a voicemail message). All of our Nutrition Counselling Packages we offer begin with a 60-minute initial nutrition assessment and counselling session included in the package price.
Please note that we only work with adult clients aged 18 and older.
Schedule
Hours are varied to offer morning, lunch hour, afternoon, and evening nutrition sessions.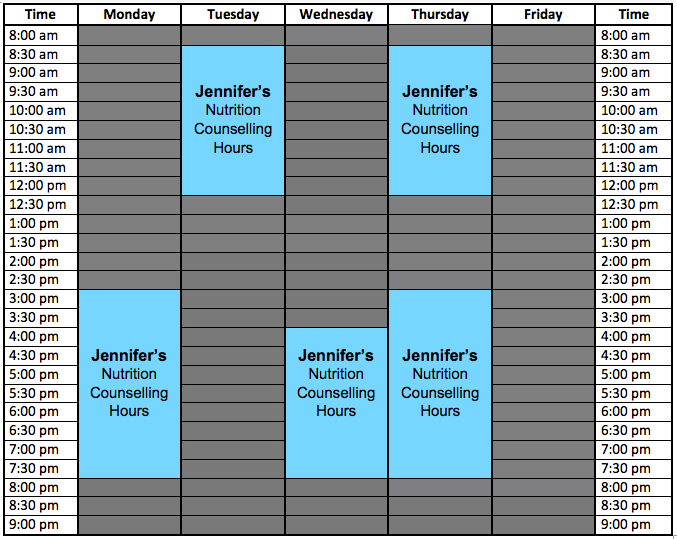 Cancellation Policy
Forty-eight (48) hours notice must be given to cancel/reschedule your appointment, as that appointment time is reserved for you.  Providing at least 48 hours notice allows our office to seek a replacement, and offer you and other clients uninterrupted service.  If 48 hours notice is not provided, or if you do not show up to your reserved appointment, a fee of $40.00 will be charged to you.  Thank you for your cooperation and understanding.
Privacy & Client Confidentiality
NutritionRx is committed to keeping your personal health information safe and confidential. The privacy of our clients is very important to us. To provide you with quality health care, we collect both personal and health information from you. Your name, date of birth, address, and occupation are examples of personal information. Your health history, the records of your nutrition visits to our office, and what nutritional care we provide to you are examples of your health information.
The information we collect from you is used:
to provide you with quality health and nutritional care
to carry out quality assurance to help make us better
to comply with legal and regulatory requirements
for research to help development the best treatment and care for the future
for education to keep current health care practitioners up to date and to train new healthcare practitioners for the future
If your information were to be used for any other purpose, your specific permission would be required first.
Privacy Policy
NutritionRx is responsible for personal health information under its control and is committed to a high standard of privacy for our information collection practices. NutritionRx has adopted the ten principles set out in the Personal Health Information Protection Act, 2004 (PHIPA) to safe-guard your personal information. Please contact us (info@nutritionrx.ca) if you have any questions or concerns about your privacy at our organization.