Posted on November 19th, 2012 by admin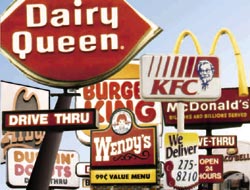 30 Day Nutrition Challenge
DAY 19 – Avoid Eating Out
It's good to focus on things you can do versus things to avoid, but every once in awhile it's good to take a step back from some unhealthy habits.  Restaurants, especially fast food chains, often serve meals that are notoriously high in calories, sodium, unhealthy trans fats, and refined carbohydrates.  This week, re-connect with homemade meals and see if you can go 7 days only eating things you've made for yourself at home.
DAY 19 – Success Tracker
Days Without Eating Out: □ □ □ □ □ □ □
By: Jennifer Broxterman, MSc, RD
Registered Dietitian & Sports Nutritionist
NutritionRx | Professional nutrition counselling services in London, Ontario, Canada
www.nutritionrx.ca
info@nutritionrx.ca
See Other 30 Day Nutrition Challenge Posts
Day 1: Clean Sweep
Day 2: Grocery Shopping
Day 3: Prepare a "Veggie Bucket"
Day 4: Vegetables at Lunch
Day 5: Vegetables at Lunch
Day 6: Fruit at Breakfast
Day 7: Hydration
Day 8: Benefits of Tea
Day 9: Practice Mindful Eating
Day 10: Omega-3 Fish
Day 11: Omega-3 Flaxseeds & Chia Seeds
Day 12: Try a New Recipe
Day 13: Limit Alcohol
Day 14: Nuts & Seeds
Day 15: Plan Your Meals
Day 16: Grocery List
Day 17: Batch Cook & Freeze Leftovers
Day 18: Water Break Mid-Afternoon
Day 19: Avoid Eating Out
Day 20: Fruit Smoothie
Day 21: New Herbs & Spices
Day 22: New Vegetable or Fruit
Day 23: Dark Green Vegetables
Day 24: Bright Orange Vegetables & Fruit
Day 25: Practice Positive Self-Talk
Day 26: Salad at Dinner
Day 27: Snack Attack
Day 28: Cut Out Sugary Beverages
Day 29: Rainbow of Colour
Day 30: Set a New Goal or Repeat a Missed Goal